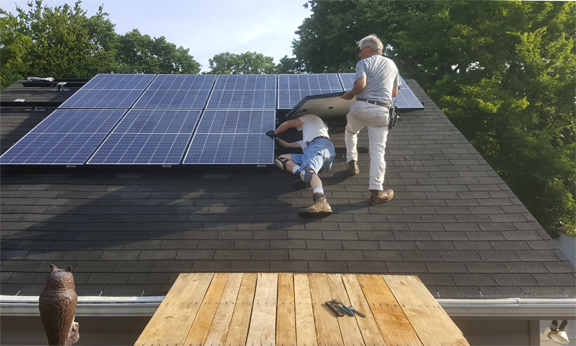 I just had more panels added to my 15-panel solar system; the photo above is the installers wiring the additional 10 on the roof of my garage. Solar energy is a near and dear subject to my heart. People ask me regularly about solar energy…new solar technology/hardware, how it works with my home, and the cost of a system. Matt Reilly contacted me recently about guest-posting, and I thought this topic would fit in nicely with the "and positive life tips" part of my blog. Read on.   –Kurt
All the energy that the world uses every day could be replaced with solar. It's no wonder then that more and more people want to take advantage of this valuable natural resource. By going solar, you can significantly reduce your carbon footprint on this planet and will be surprised how much money you could save on utilities.
But before you jump on the solar bandwagon, there are some important things to consider and aspects you need to understand first.
Are there any codes or regulations on installing solar panels in your area?
Before you start planning anything, calculating costs, and researching where to buy, you need to do some homework. There can be some rules and codes in your local area that regulate or restrict the usage and installation of solar panels. For example, fire codes could be in place restricting the number panels on roofs due to potential fire hazards.
There can also be certain permits you will need to have. They can be permits for the installation itself, for the kind of solar panels you want, a permit that regulates the areas in which you can install them, and how many you're allowed to install.
Does your house receive enough sunlight, and is your roof suitable for solar panels?
Consider how much sunlight your part of the country receives. The number of sunny days per year will play a big role in how much power the panels will be able to generate, whether that is enough for your household needs and, in the end, how much money you will be able to save on utility bills.
It's also important to consider the position of your house in relation to the sun. There should be no major obstacles too near your house that create shade and block direct sunlight, such as tall trees or branches over your roof.
If your roof is older than about 10 years and will need some repair or replacement soon, think carefully about installing the panels. The best option would probably be to wait until the roof is upgraded or replaced before the system is installed. Along with the condition of the roof, its slope and orientation are also important. The ideal would be if you have a decent sized portion of the roof facing south at a 7/12th's pitch on which to mount the panels.
Hiring a contractor
If you're a skilled handy person with some experience, tools, and have done similar work, you can install the panels yourself. There are many guides and DIY instructions, and if you study them well and are careful, it's possible. However, as far as local regulations and codes, there are some areas that require an expert or an electrician to install some of the system or to do certain parts of the job—and it's a wise idea to consult a professional for guidance when purchasing supplies. If you decide to hire a roofing contractor to take care of the whole process, make sure you hire properly licensed and authorized professionals.
Are there any financial incentives?
Even though in the end a solar system pays off in more ways than one, it can be a costly process. The panels themselves and the installation can be expensive, and you may need to take out a loan. But first, check if there are any federal, state, or local incentives in place. There are some government tax breaks, financial incentives, and rebates, and you might just be in luck.
About the Author: Matt Reilly is a writer and editor on home improvement, smart technology, and sustainable solutions for Reilly Roofing and Gutters.
Looking for a new job? Want to get what you want fast? Check out my book, Here Today, Hired Tomorrow (kurtkirton.com/hthtbook), and subscribe to my blog (kurtkirton.com) for free  advice on your job search – www.bit.ly/kwknewsltr